LOCAL COVID-19 UPDATES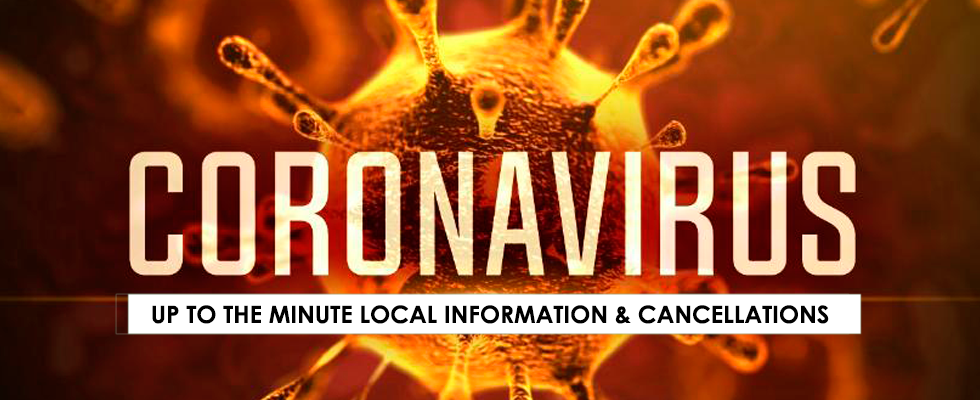 LOCAL CORONAVIRUS UPDATES:
Resources:
https://www.tn.gov/governor/covid-19.html State of TN Covid-19
https://www.tn.gov/health/cedep/ncov.html Track the number of cases in Tennessee
https://covid19.healthdata.org/projections Institute for Health Metrics and Evaluation
https://myutk.maps.arcgis.com/apps/opsdashboard/index.html#/a4614b1566f44f559d9c5995ebe9c49d TN case tracker provided by UTK
https://www.jobs4tn.gov/vosnet/Default.aspx TN Unemployment Info
https://www.facebook.com/TNDeptofHealth/ TN Dept. of Health
https://www.coronavirus.gov/ Federal Government, CDC's Covid-19
https://www.fema.gov/coronavirus FEMA
https://www.facebook.com/CityofMorristown/ City of Morristown's Facebook
https://www.osha.gov/SLTC/covid-19/ OSHA Covid-19 info
April 6th, 2020:
The City of Newport, April City Council meeting scheduled for 4/14 has been cancelled.
April 3rd, 2020:
All Great Smoky Mountains Expo Center events until May 1, 2020 have been cancelled.
The Newport Parks and Recreation and Smoky Mountain Little League has suspended all organized youth sports through April 30. We will reevaluate in the coming weeks to ensure a safe return to our programs. This includes Little League Baseball and all other outside teams that use our facilities. We are continuing to monitor the situation and will provide updates via the Newport Parks and Recreation Athletic Department Facebook Page.
April 2nd, 2020:
Greeneville Police Department Officers have been proudly assisting the Greeneville City Schools meal program since it began. The program is now being expanded to provide breakfast and lunch for every child in Greeneville. Enough meals to cover seven days per week for all children under age 19. Pickup locations are at Greeneville High School and Hal Henard Elementary. No paperwork required. Pickup times are Monday's, Tuesday's, and Thursday's from 10am – 12:30pm. Delivery options are available to those without transportation by calling 423-787-8019.
APRIL 1ST, 2020
The Cocke County Health Department is offering assessments for COVID-19. For more information call 423-623-8733. If you have questions regarding COVID-19, you should call 865-549-5343 and speak to a health care worker during the hours of 8 am – 4:30 pm Monday through Friday.
MARCH 31ST, 2020
Grab-N-Go Drive Thru Pick Up ~
Lunch: Hamburger/Cheeseburger & Tater Tots
When: Monday – Friday
Where: Newport Grammar School
Time: 7:30am – 12:00pm
For: Any Child 18 & Under
Cost: FREE
Walters State will not open facilities on April 6 as previously intended. However, the college will continue to hold instruction, student services and other college operations online for the duration of spring semester. Faculty and staff will continue to work remotely until further notice. Students should continue to check their eLEARN for course assignments and Senators Mail, the Walters State website and the college's social media for further updates. An online resources page, ws.edu/coronavirus, has been posted with the following information: WiFi hotspots, tips for succeeding online, tutoring online, library services, and area food banks.
MARCH 26TH, 2020
Popcorn Chicken will be served from 7:30am – 12:00pm at Newport Grammar School! Drive thru and grab a FREE breakfast & Popcorn Chicken lunch to go for any child 18 and under. Also (1) Free A La Carte item will be included in your lunch bag!
MARCH 25TH, 2020
Peanut Butter and Jelly sandwich's will be available from 7:30am – 12:00pm at Newport Grammar School for any child 18 and under.
All 10 Cocke County Schools will be providing breakfast and lunch via curbside pickup today from 10am-1pm
MARCH 24TH, 2020
Hot Dog day from 7:30am – 12:00pm at Newport Grammar School. Drive thru and grab a hot dog and smile fries to go for any child 18 & under.
The free lunch at St. James Lutheran Church in Greene County scheduled for Saturday, April 4 is cancelled. Free lunches will continue when safety is not an issue. Call 423-823-7744 for more information.
Newport Federal Bank has been made to temporarily close the lobby (Main and Cosby Branch) effective Thursday, March 26th. To accommodate our customers, Newport Federal Bank will be opening our drive thru lanes at 8:00 am. Until further notice the Bank's drive thru hours are: 8:00 am – 5:00 pm Monday, Tuesday, Thursday, Friday – Main and Cosby Branch 8:00 am – 12:00 pm Wednesday – Cosby Branch 8:00 am – 12:00 pm Saturday – Main Branch. The Downtown Branch of Newport Federal Bank, located at 263 East Broadway, will be temporarily closed starting Tuesday, March 24th, 2020.
Due to vehicle problems, English Mtn Christian church will not be able to do the evening supper bags at Feed My Sheep.
Newport Utilities' lobby has closed, the drive-thru window hours have been extended to 7:00 am to 7:00 pm to better serve you. Our Customer Service department remains open and ready to assist. If you have any questions about your bill, please call us at (423)625-2800, option 7.
Tennessee Department of Environment and Conservation has canceled the planned April 4th household hazardous waste and electronics recycling event that was planned for Myers Diversified Recycling on East Highway 25/70 in Cocke County.
The City of Newport Animal Control will not be open to the public until further notice. At this time, we will only be responding to priority / emergency calls which includes law enforcement assistance, injured or stray animals, bite complaints and dangerous / aggressive dog complaints. Those calls should be directed through 911. All other complaints should be directed through our office at 423.625.8444.
Newport Police Chief Maurice Shults has issued new guidelines for the access of the public and media to his department. The Newport Police Department business offices are now closed to the public.
MARCH 23RD, 2020
Beginning this morning, 3/23/2020, all Douglas-Cherokee offices are closed to the public. Clients can call (423)587-4500 or (866)631-4120 for more information.
Due to COVID-19 the City of Newport Street Department building is currently closed to the public, if you need to reach the Street Department you may call 423-623-5246. Household trash pickup and other curb picked service are still be done as usual.
Smoky Mountain Home Health & Hospice is canceling their Grief Support group meetings scheduled for tomorrow at our Newport location. Their chaplains are always available, if you need to speak to one just call the office.
The UT Extension Office of Cocke County has announced for the safety and health of our community members and our staff, we will be closed to public access. You can still reach us by email and phone any time 8am-5pm, Monday through Friday.
Local area hospitals including Newport Medical Center and Jefferson Memorial Hospital have collaborated to address the evolving COVID-19 impact . Utilizing the Centers for Disease Control and Prevention (CDC) standards and recommendations, area facilities will be temporarily ending non-essential adult procedures today. East Tennessee Children's Hospital is limiting certain non-essential pediatric procedures. Hospitals will rely on providers to use clinical judgment and standards of care in determining when to complete a procedure. Patients who have questions about whether their procedure or service is essential, should contact their physician's office directly.
MONDAY (3/23) from 7:30 am – 12:00 pm at Newport Grammar School! Drive thru and grab a burger and tater tots to go for any child age 2-18 while supplies last!
All 10 Cocke County Schools will be providing breakfast and lunch via curbside pickup Monday and Wednesday 10am-1pm. Monday each child may have 2 of each meal and on Wednesday 3 of each meal. We will be wearing gloves and following strict food safety guidelines in order to protect everyone.
TN DEP of Health Case Count up to 505 from 371 prior day. 505 confirmed cases in Tennessee with 2 deaths
Kentucky Senator Rand Paul tested positive for COVID 19 and was tested out of an abundance of caution surrounding his travels.
Mitt Romney will be tested and ordered to self quarantine as he sat next to Rand Paul for several periods
Tennessee Governor Bill Lee sighs executive order to have restaurants and bars limited to deliver, take out, drive thru. Beer and wine are available under the order that last until April 6th.
A second Tusculum University student has tested positive for COVID 19. The two students traveled together over spring break, the school said
US Food and Drug Admin confirm they will send 10,000 doses of azithromycin and hydroxychoroquine to New York. Limited studies have shown these medication could be beneficial so with President Trump, Gov Andrew Cuomo and the FDA is rushing this combination in hopes it stops and cures some patients and helps in healing with patients and bringing down the spread.
MARCH 19TH, 2020
Walmart is trimming its hours for the second time this week due to the coronavirus. Beginning Thursday, stores will be open from 7 a.m. to 8:30 p.m. local time. Stores that open later than 7 a.m. will continue their regular starting hours, Walmart said Wednesday night. From March 24 through April 28, Walmart's 5,000-plus U.S. stores will host an hour-long senior shopping event every Tuesday for customers 60 and older, which will start one hour before stores open.
All four libraries in Cocke County will be closed beginning Friday and continuing through March 31
The Great Smoky Mountain National Park is modifying operations to implement the latest health guidelines regarding COVID-19 coronavirus. The Park is continuing to take steps to implement the latest guidance from the White House, CDC, and local/state authorities to promote social distancing, according to a news release. "As of Thursday, March 19, seasonally open campgrounds at Smokemont, Cades Cove, Elkmont, and Cosby will no longer accept fees on-site. All campers must reserve and pay for sites online at recreation.gov to minimize the exposure risk for park employees and visitors." GSMNP is suspending reservations for gatherings at the following park facilities through April 30: Appalachian Clubhouse, Spence Cabin, Cades Cove Primitive Baptist Church, Cades Cove Missionary Baptist Church, Cades Cove Methodist Church, and Smokemont Baptist Church.
MARCH 18TH, 2020
---
Food City has altered its operating hours effective Tuesday. The new hours are from 7 a.m. to 10 p.m. daily. Adults age 65 and older along with other at-risk customers to shop between 7 and 8 a.m. to avoid busier shopping periodS.
Newport City School System is happy to announce that they will now be able to offer BOTH a breakfast AND a lunch to each eligible child (ages 2 – 18) in a vehicle during meal pick-up times. The time to pick-up a Grab-n-Go breakfast AND lunch from the gym entrance will be from 7:30 AM – 12:00 PM beginning Wednesday. Vehicles should pull into the gym parking lot and a staff member will count the number of children between the ages of 2 and 18 in the vehicle. That number of breakfast and lunch Grab-n-Go Meals will then be hand delivered to the vehicle. No one is to enter the building or exit their vehicles.
Thursday's – Cocke County Partnership – March Member Breakfast – Cancelled.
The Cocke County Education Foundation has postponed their "Celebrating our Success" Banquet schedule for this coming Thursday.
The City of Newport Municipal Court for has been postponed for the March 19th docket. If you have a court date on March 19th, you will be getting a letter for your reset court date. These letters were mailed today.
The Kiwanis Club of Newport – March 27th, Gerry Izzo event has postponed.
No – CLB monthly meeting for March.
The special March 28th Wheel Tax meeting has been postponed until a later date.
Cosby Elementary School will be open for all families to pick up instructional materials on Tuesday, March 17 from 2-6PM and Wednesday, March 18 from 7AM-7PM in the elementary gym. Teachers have prepared instructional materials for every child so that learning may continue. They will also have library books and meals for distribution.
The Newport Club will be CLOSED through March 27th and will reopen as schools do.
Cocke County and Newport schools will be closed till March 27. That includes school trips and athletic activities.. Breakfast and lunch will be available to students beginning on Tuesday of this week. More information will be released as decisions are made.
Jefferson Cocke County Utility District is asking customers to use the drive-thru window for payments. Until further notice. Other inquiries and phone payments call 423-623-3069.