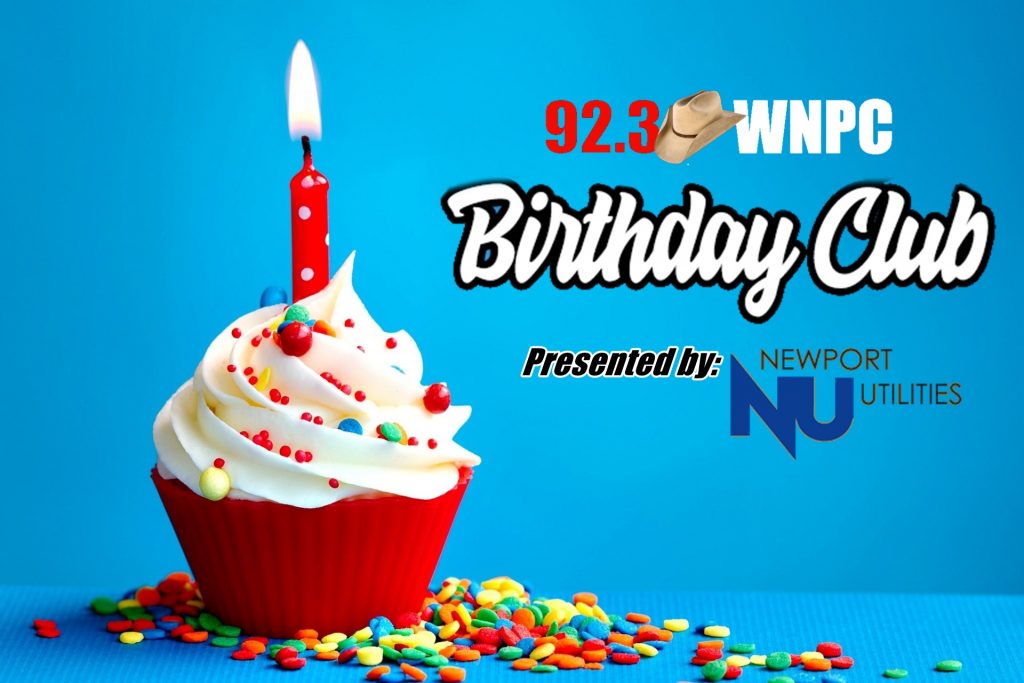 Who's Celebrating a Birthday Today?
Let 92.3 WNPC celebrate your one big day of the year with a special birthday wish!
Let 92.3 WNPC surprise someone you know with a Happy Birthday! wish and some nice prizes on the morning of their birthday! It's the 92.3 WNPC Birthday Club sponsored by Newport Utilities!

A few days before the birthday send us the information. Let us know their name, address, age, birthday, and maybe a funny story about them. Each weekday morning we will select one lucky celebrant to win our Birthday Club prize pack from several Newport merchants. Included in the Prize Pack are:
One Tenderloin Biscuit and Coffee or Cola from Arby's
Your choice of 1 One Personal Pan Pizza with Drink, A Kids Meal or a 6 inch Fresh Value Meal from Donna Jo's Subway
Your choice of 1 Loaded Tea or Iced Coffee or Protein Shake from Newport Nutrition (124 Fox and Hound Way, Newport)
You may mail, fax, or email birthdays to us, or you can simply use the handy on-line form below. Please do not send birthdays to us more that three months in advance. Remember to check our "Birthdays" page here on the web every day seven days a week to see who is celebrating. You can click on any birthday celebrant's name to see the additional information that was submitted. And, from the whole 92.3 WNPC family, Happy Birthday! to all having a birthday today!
HAVING TROUBLE WITH THE BIRTHDAY FORM BELOW?
CALL YOUR BIRTHDAY CLUB ENTRY IN DAYS AHEAD AT: 423-623-8743 (BETWEEN 9AM – 5PM)